In this article, I am going to highlight the best python books for beginners which means beginners can learn python language by these good python books as you know python is a high-level programming language and easy to learn as compared to other languages.
You know that why is python so famous among beginners because python is a high-level programming language with easy to use and Supportive Python Community. python contains Hundreds of Libraries and Frameworks.
Did you ever think or when you started learning python that "Is python used professionally",And
The simple answer is that python is widely used on the server-side. python mostly used as a freelancer web scraper and many things python contains but it's not my today's topic so let's talk about the best python books.
Here is curated list of best python books reviews for beginners.
Python Cookbook: Recipes for Mastering

Python 3
David Beazley and Brian K. Jones want to help you by python cookbook master your programming skill in Python 3 or update python 2 code. Python Cookbook is an ideal book for writing code in python 3. when you start you will see the topic and notice the author's discussion of some particular elements of the solution. related to core Python language and tasks common to a large number of application domains.
Head-First Python,
2nd edition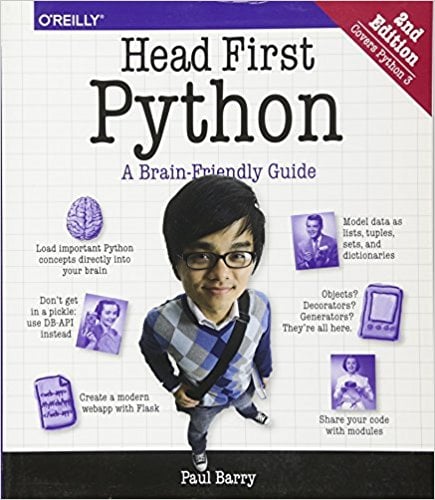 This is one of the best books for beginners who want to learn python quickly and fix it for you if you want to learn the basic Python programming language, I really like the head first series of books. this book designed by Paul Barry to guide you through challenges
The head first python book makes visual format rather than a text-based approach. Paul Barry is a lecturer at the institute of technology. If you find most programming books to be hard or can say to be dry this could be an excellent book for you for starting python.
Python Crash Course, 2nd Edition: A Hands-On, Project-Based Introduction to Programming
Python Crash Course starts with the basic of Python elements and Data Structure and this book cover loops, user input, functions, classes, and file handling. that's just the first half of the book and the second half of the book cover three major projects, creating some clever and fun applications.
By Python crash course you will learn about libraries and tools such as Pygame, Matplotlib, Plotly, and Django and work with data to create interactive visualizations. this book ends by providing information about how to develop web apps.
Learn Python the Hard Way
In this book, you will learn python by working through 52 well-developed exercises, "Learn Python the Hard Way" by Zad A. this book is fully perfect for beginners who have not coded before. the book requires you to learn by practical coding.
when will you start learning python by this book then you will see it will teach you how to create a python environment, organizing & writing code, variables, looping, and logic, basic mathematics, etc,
This book author even shows you how to break, fix and debug your code because when you will learn these things that it will give you coding flavor and the great thing about the book is how the author represents the content.
Fluent Python: Clear, Concise, and Effective Programming
Fluent python's author Luciano Ramalho takes you through the feature and libraries of the python language that will make your code easy, shorter and readable. this book helps you learn how to write useful python code best feature of the language.
This book's author covers various concepts, including python data model, data structures, functions as objects, object-oriented idioms, control flow, and metaprogramming Etc. This book is perfect for someone with a solid foundation in the basics of Python, 2 or 3.